CASH PRIZES DOUBLED IN 2022 TO $200,000
The Largest cash prize pool at any startup event in the world!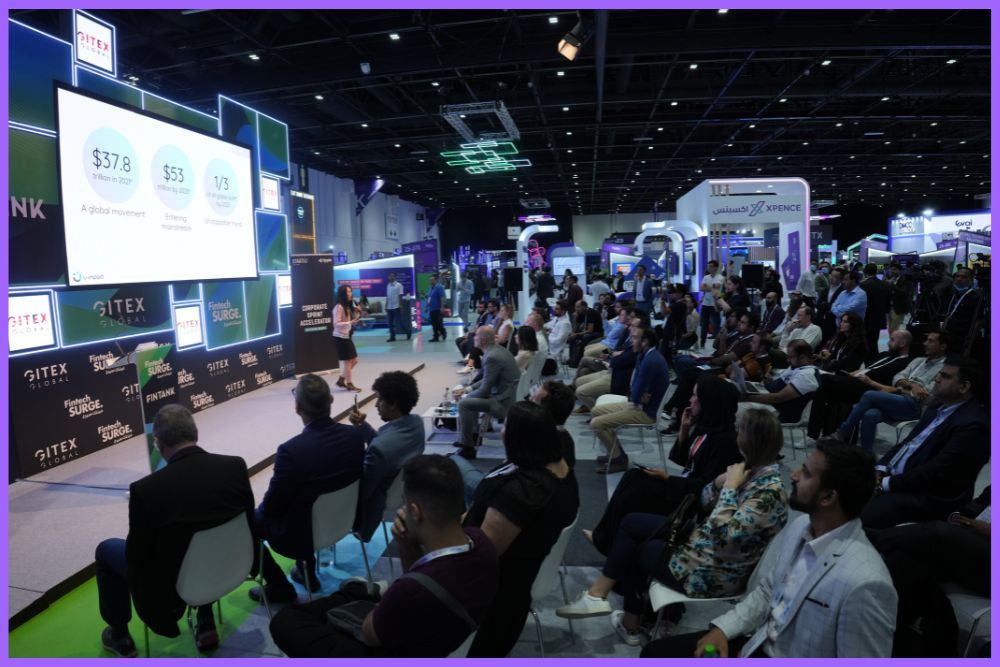 What is the Supernova Challenge Pitch Competition?
The Supernova Challenge is the biggest pitch competition in the Middle East, Africa and South Asia, and your opportunity to become the next unicorn!
In 2022, $200,000 in cash prizes was up for grabs, the Supernova Challenge is an anticipated pitch competition for entrepreneurs willing to display groundbreaking innovations and highlight their value in front of the world.
WHAT AWARDS WILL BE AVAILABLE?
FINTECH INNOVATOR
AI INNOVATOR
TOP MENA STARTUP AWARD (NEW)
MARTECH INNOVATOR
BLOCKCHAIN FRONTIER LEADER
OVERALL INDUSTRY PIONEER AWARD
SUSTAINABILITY & ESG INNOVATOR
CREATIVE ECONOMY INNOVATOR
FAST FEMALE FOUNDER AWARD IN PARTNERSHIP WITH SHARJAH BUSINESS WOMEN'S COUNCIL
Startups apply to participate in the Supernova competition through the Exhibitor portal (Startups have to be confirmed Exhibiting Startups under North Star, Fintech Surge, Future Blockchain Summit, Ai Everything, Marketing Mania, GITEX Impact to apply to enter).
To enter the Supernova competition, you must be an Exhibiting Startup. If you are not, please use the button below.
THE STEPS
Step 1: Login in to the Exhibitor Portal with your personal login details. (Exhibitor Portal access will only be given to confirmed exhibitors.)
Step 2: Go to the Supernova form section.
Step 3: Fill in the questions and uploads and click submit.
PITCH COMPETITION TIMELINE
Take a look at how the Supernova Pitch Competition will be hosted during the 4 days at Fintech Surge.
To enter the Supernova Pitch competition, you will need to be one of the exhibiting startups attending Expand North Star, October 15 – 18 at Dubai Harbour. The startups that apply for the competition will then be required to pitch their ideas, with the semi finalists being announced closer to the time of the event.
If I am not shortlisted to participate in the semi-finals, what can I do?
If you are not shortlisted, there are many opportunities to engage with investors and the wider North Star audience. We will be keeping a waitlist in case of any last-minute changes. Please note that we receive hundreds of applications per category and the shortlisting goes through multiple rounds of review to reach only a final 10 for the semi-finals and 2 for the finals.
What should my pitch video include?
Your Pitch Video must be ONLY 60 Seconds or it will not be considered. Your Pitch Video must be in English and have a clear shot of your upper body (sitting or standing). Please submit your video by either a YouTube or a Vimeo URL.
Check out Paul Graham's advice on story telling when pitching:
"Your goal, and your only goal, is to make investors feel it's not safe to cross you off. And there is a verb for convincing someone that something is not safe. It sounds dramatic, but your goal is to frighten them. But what frightens them? The possibility that you might become really big. They know there are maybe a few companies that will become really big….Before you start meeting investors, put together a rough draft of your fundraising vertebrae. These are the 3-4 points that compromise the narrative of why your company will be really big. Together, if investors believed in any of these points, they'd be afraid not to bet on you. As you do, keep in mind that there is an important distinction between what the business is and how you tell the story of what your business is. Your conversations with investors should influence the latter, not the former. No investor knows your business as well as you do."
If I was selected to pitch previously but wasn't able to attend, am I entitled to spot in the semi-finals or finals?
No, there will be a new selection process each year. You will have to apply to be considered again. Similarly, if you are shortlisted for the finals after pitching in the semi-finals but you miss the pitch, you will be replaced with the next runner-up.