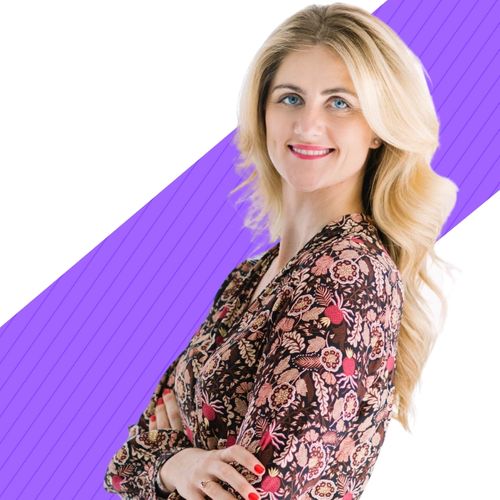 Erika Doyle
Erika Doyle is a true champion of the zero-alcohol revolution in the UAE. The Founder of Drink Dry, the GCC's first and only premium non-alcoholic drinks marketplace, Erika is a well-known and revered figure in the beverage industry. What started as an e-store, Drink Dry is now a firm mainstay in the retail and hospitality sector across the UAE, with their product offering now available in many prominent bars and restaurants across the city.
Erika holds a bachelor's degree in History and Politics from the University of Nottingham. A tenacious leader and innately passionate about pioneering the alcohol-free drinks category in the F&B industry in the UAE, Erika was included as one of the top female-led companies in the UAE by Time Out magazine in March 2021. In 2022, she won the Entrepreneur Woman SME Leaders Award for F&B Leader and was included in Arabian Businesses' '50 Most Inspirational Women 2022'. Erika has been interviewed several times by leading local newspapers and magazines such as Caterer Middle East, The National, Arabian Business, Time Out, BBC Good Food Middle East, Gulf News, Hotelier ME, Hotel and Catering News Middle East, Savoir Flair, Mother, Baby & Child Magazine and more.
A force to be reckoned with; for the last three years, Erika has been leading one of the UAE's fastest-growing startups in a new and developing category. Founding the first and only premium non-alcoholic drinks marketplace in the UAE, Erika followed her passion and after giving up alcohol to start a family of her own, saw a real gap in the market and launched Drink Dry in 2021. Her unwavering passion and motivation for zero-proof drinks and relentless focus on quality and customer service brought her success and recognition in a short span of eighteen months. The extensive range of quality products offers their loyal customer base a full experience when it comes to introducing new ways of drinking. Erika also helps many global non-alcoholic drinks brands enter the market here, and by working with both big well-known brands, as well as small, niche producers, their customers get the best of both worlds – the quality they expect from the brands they know and love, as well as innovation from the new and upcoming players in the market.
Since its first month of trading from January 2021 to December 2021, Drink Dry saw its monthly sales grow by 2000%. Within month three of trading, they entered the retail space, working with Grandiose, Urban Foods, Choithrams, Carrefour and Talabat.
Drink Dry had its first export order in August 2021 into Kuwait and entered the 'quick commerce' business with Talabat in December 2021, showing a clear demand for Drink Dry's product offering across numerous channels. The brand launched their Kuwait e-commerce platform in July 2022 and have been supplying to several hotels and restaurants since October 2022. From a retail perspective they work with Sultan Centre, Monoprix and Carrefour in Kuwait.
By June 2021, Drink Dry was supplying over 60 hospitality venues with demand growing daily. By partnering with one of the biggest FMCG Distributors in the UAE, the brand is now supplying over 200 venues in the UAE with their full portfolio. In addition, Drink Dry has signed contracts with two large hotel chains for the regional distribution of their products and holds an exclusive regional contract with Rotana Hotels since September 2022.
Some further accolades for Erika and Drink Dry have been the expansion of the workforce, which doubled in January 2022, and again in 2023. From a team of 8 to 15, the brand has moved into a new office space to allow for the growth of the brand.
2023 is set to be a huge year for Drink Dry with more growth firmly on the horizon as the brand launches its e-commerce platform in Saudi Arabia in Q2. B2B operations are already in place in the Kingdom with a dedicated Drink Dry workforce based there, offering their premium product portfolio to a wealth of leading hotels, restaurants and F&B outlets. In addition, Erika is also implementing the introduction of even more prestigious non-alcoholic drinks to the GCC market over the coming year.
Erika Doyle is a self-confessed health freak and a mother of three girls. In addition to her brand, Erika is a strong believer in giving back to society and works on various philanthropic endeavors, including working with Life Skills Haiti Foundation and sponsoring nurses through their education program