What's the fintech fit with GenZ? Empowering Gen Z through new-age banking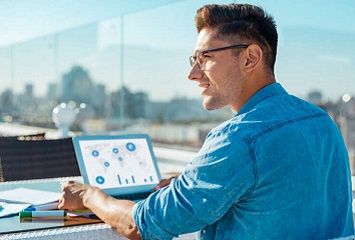 By Ammar Kutait, CEO and Founder of W1TTY

Fintech facts
Of all the sectors attracting investor attention, fintech remains at the top of many watchlists. We only need to look at the numbers to see why the global fintech market was valued at $7.3 Trillion in 2020 and is forecast to grow at a CAGR of 26.87% until 2026.

These are very impressive figures, particularly for a sector that only stepped into the limelight less than a decade ago. Yet what makes this more exciting is that growth for this sector is projected to continue in the coming years.
There are plenty of questions around the factors catalyzing this increase. For instance, we are only just scratching the surface when it comes to understanding the full potential that fintech has to offer. And when we look at the European fintech market in particular, we have now moved into what I like to call the second wave of fintech innovations.

The second wave of fintechs

Having witnessed the rise of challenger banks highlighting the advantages of technology in providing responsive, digitally-enabled services, these startups have effectively transitioned into unicorns. Many apps are now seen as equal competitors to legacy banks, which is an amazing feat given this has occurred in such a short span of time.

At the same time, major banks and established financial institutions have realized they have to adapt and change in order to meet changing demands from consumers and investors. JP Morgan's digital retail bank challenger offering, Chase Bank UK, is a perfect example of this.
Overall, this should be seen as good news for consumers and investors. A competitive environment pushes financial institutions to constantly improve their services and products to compete for a limited market share.
This second wave refers to a new generation of fintech startups which are using existing technologies to target specific markets and demographics that have so far been neglected. One clear audience which has been identified across Europe is Generation Z – a demographic cohort succeeding millennials and preceding Generation Alpha.

A digitally-enabled generation

Typically between the ages of 8-24, Generation Z (Gen Zs) are digital natives and are living in a political, economic and social environment completely different to previous generations. They face new challenges, and new opportunities daily. If we look at the investment opportunities available to them, they are not confined to a limited number of investment vehicles like stocks and shares, and ISAs. Instead, they have the ability to diversify their portfolios across traditional, alternative and new age asset classes, like cryptocurrencies.

The finance and investment landscape is inherently more complex, moving at a rate that can be difficult to follow for even sophisticated investors and experienced savers. Evidently, there is an obvious need for a new generation of fintech neobanks that understand their specific interests and concerns.
According to month-on-month research conducted by W1TTY covering the age groups 18-24 years old, more than a third (34%) of Gen Z said that they would rather invest in cryptocurrencies than a pension, and almost a fifth (18%) want their bank to provide support and advice on investing in digital currencies, according to new research out today. The appetite to invest in crypto is higher among young men, with almost half (46%) admitting to preferring crypto to retirement savings, compared with a quarter (27%) of young women.
Overall, a further 30% of 18 to 24-year-olds aren't sure if they would rather invest in cryptocurrency than a pension, suggesting a concerning generation knowledge gap around personal finance and investments.

Cryptocurrency is clearly on the minds of the younger generation, and this has no doubt been spurred by public endorsements and the wider acceptance of digital currencies as an inevitable component of our financial system. Yet there is still a knowledge gap when it comes to understanding not only what cryptocurrency actually is, but also how it can be used as part of a bigger investment portfolio. Education is key here to ensure that risk can be appropriately managed.

Offering support beyond financial management

There is also another component to Gen Z fintech that goes beyond financial management; that is, their mental wellbeing and how this can be affected by personal financial issues. This was also clearly evident in the multiple studies conducted by W1TTY.

We found that 74% of Gen Z have suffered from increased stress as a consequence of having to address these personal financial challenges, with half (50%) also saying they deliberately avoid checking their bank account.
When it comes to the generation's top financial concerns for 2022, almost one in five (18%) worry they won't meet their savings targets, 16% are concerned they won't be able to pay their bills, and a further 16% worry about maintaining a stable income this year.

By understanding the current issues facing Gen Z, fintech banks and digital challengers are ideally placed to alleviate their concerns and provide tailored services to ensure younger generations can better manage their finances through providing greater opportunities across financial education and risk mitigation for improved decision making. This is set to be a defining trend which will lead to the development of new products and services tailored to specific demographics that go beyond the needs of Gen Z.

It's like we are only getting started on a journey to change the financial face of Europe and empower the younger generation. Let's give them a smarter financial future!
Source: Global Banking and Finance